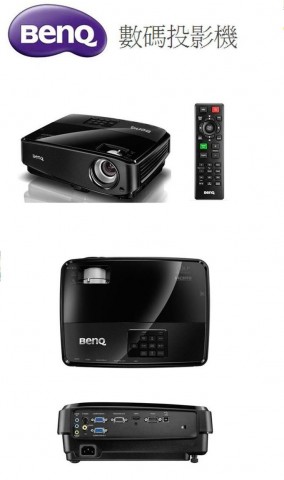 ㊣ BenQ DLP Projector MS517 projector projection technology licensed two new maintenance ㊣
Model:
All countries
Product Description
㊣ BenQ Projector MS517 projector maintenance ㊣ two new licensed


Value for small and medium space

Both economic and eco-friendly MS517,

Not only has 2800 lumens of brightness, 13000:1 high contrast and SVGA resolution,

And supports multiple 3D formats and the highest saving 6500 hours lamp life,

Therefore, regardless of any ambient light interference,

Can render the most detailed imaging provides stunning performance in the projection screen.
Projection Technology : DLP ® projection technology

Real resolution : SVGA (800 x 600)

Brightness ( lumens ): 2800 ANSI lumens

Contrast Ratio: 13000:1

Color processing : 1.07 million color full color

Lens : F = 2.51 ~ 2.69 f = 21.95mm ~ 24.18mm

Screen ratio: 4:3 native ( five kinds of proportional selection )

Throw Ratio : 1.97-2.17 (50 "@ 2m)

Lamp Type: 190W

Computer Support Resolution : VGA (640 x 480) to UXGA (1600 x 1200)

Body ( W x H x D mm): 302.8 x 111.8x 221.8 mm

Weight ( kg ): 2.3kg (5.06lbs)
Winona Shop guarantee, Hong Kong agent of goods

Winona Shop guarantee, original licensed

Winona Shop guarantee, brand new goods

Winona Shop guarantee, the original two-year warranty

Winona Shop assure you that the physical reality must sell
Before bidding, please check with the shop inventory, in order to avoid unnecessary misunderstanding ~!!