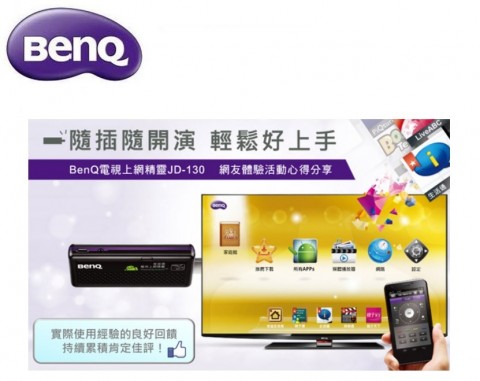 BenQ Android Dongle
Model:
All countries
Product Description
Mining Android4.1.2 Jelly Bean operating system to enhance browsing speed with the use of fluency, overall performance perfection. In addition , there are built specifically for Smart LED BenQ software market , offering all-inclusive fit your TV using Apps to the user. Quality system plus exclusive Apps, giving TV more. Since then, as long as you can easily access on the sofa , connecting the world !



Wireless transmission , as you share
BenQ family Clouds · Television Internet wizard 's proprietary multi-screen interactive features , integrating the most popular Internet video through mobile phones will want to watch online video content directly to the BenQ TV Internet Wizard , you can easily use the TV broadcast on the big picture . Watch cell phone while still working, totally accounting for resources.
[ Note ] need smart phone or tablet with Android 4.0 or more versions of iOS 6 above
With WiFi dual-band 2.4GHz and 5GHz dual- band wireless connectivity , which can effectively solve the interference problem 2.4GHz , makes sharing more free, more fun and more !



Supports multiple file formats ( including : documents, pictures , videos and music ) , it is possible to connect a variety of wireless , wired keyboard / mouse / flash / HDD / card reader, plus wireless sharing transmission function, what can see what can hear , what make you super enjoy !



Basic Specifications

ARM Cortex-A9 dual-core upto 1.5GHz

Mali-400 3D dual-core
Android 4.1.2

DDR3 1GB

HDMI x 1, USB 2.0 x 2 ( a connected power supply ), Micro SD card reader slot x 1, IR receiver terminal x 1

Wireless dual-band support 802.11 a / b / g / n

"Flash memory 4GB ( the actual available capacity will be because of the software pre-loaded and occupies little memory space ) ."

USB supported devices - keyboard / mouse , flash drives, hard drives , card readers

Please inquire inventory amount of color in order to avoid unnecessary misunderstanding ~!!